Centroid Acorn CNC Control Kit
Acorn CNC control kits are both a CNC Hardware and CNC Software DIY system designed to work together for easy CNC setup and operation with minimal fuss.
Centroid "Acorn" Step and Direction CNC Controller kit: a 4-axis CNC control with built-in motion control CPU.
A reliable, high-performance, industrial-quality CNC control at a do-it-yourself price. Acorn utilizes an integrated 1Ghz ARM Cortex A8 Motion Control CPU and communicates with CNCPC via a fast and reliable Ethernet connection.
The Acorn CNC control board controls a wide variety of axis motors and drives with industry-standard step and direction command signals. Perfect for many types of machine tools such as CNC milling machines, a wide variety of CNC Routers, CNC Plasma, CNC lathes to CNC Lasers, 3D printers, and other specialty applications.
Compatible with small to large-axis motors of all types and can be used with most any AC brushless servo motors drive packages such as DMM, Delta, Estun, Teco, Teknic, Yaskawa, and others. Any drive that accepts step and direction commands.
Most all stepper motor drives are compatible with the Acorn board such as the popular Gecko and Leadshine stepper drives. Acorn runs on Centroid's proven industrial-quality CNC control software.
Features
Centroid Acorn CNC controller kit (part # 14455) includes:
Acorn CNC control board
Acorn Relay kit
24 VDC logic power supply (50/60 Hz 100-120 VAC OR 208-240 VAC input power)
Logic power supply hookup leads
110 VAC power cord
Touch Screen Responsive Operator Controls
15' Shielded Ethernet cable
Optional Accessories: 
TT-1 CNC Tool Height Measurement Device for Acorn/AcornSix
Acorn Relay Module included with all Acorn CNC controller kit orders
Plug and Play Relay Outputs with the Acorn CNC Relay Board! Direct connection to the Acorn board with the supplied ribbon cable makes connecting and getting a relay board up and running a 5-second operation. The Plug and Play relay module allows CNC-controlled connections to various CNC devices such as VFD's, solenoids, lights, fans, pumps, motors, other larger relays, and contactors in a compact format. The 8-relay module contains eight SPDT (Single Pole Double Throw) high current relays (10 AMPS at 250 VAC,and 10 amps at 30 VDC) which can directly control any device rated at or below the maximum rating of the relays. If higher current devices are required these relays can then in turn control larger relays or contactors to control the higher current device! The relay module has onboard LED indicator lights for each relay.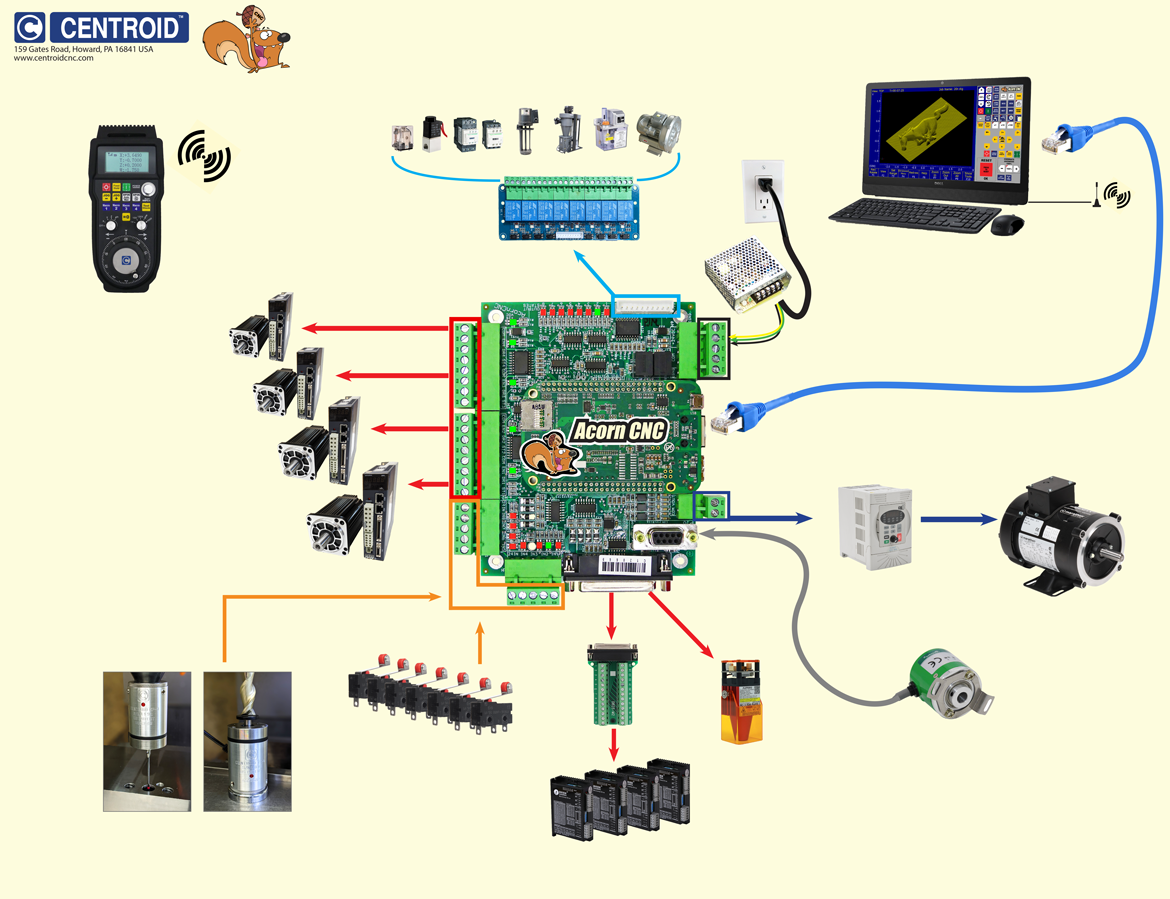 On board 1Ghz Motion Control CPU
Mill and Lathe CNC software with setup Wizard
Touch screen operators control panel (user configurable VCP)
Reliable Ethernet communication with CNCPC
Runs on Windows 10/11
Compatible with CAD/CAM systems
Runs Standard G & M Codes
True G-code back plot graphics w cutter comp moves
2000 line accell decell look ahead
1200 blocks per second
Backlash compensation
Ballscrew compensation
Feed rate override operator variable 0-200% at 1% increments
Rapid rate override
Spindle Control. on/off cw/cw, speed w/override
12 bit analog output 0-10 or 0-5 VDC for VFD control
8 optically isolated inputs, user configurable
8 Relay Outputs, user configurable
DB25 drive connection (gecko G540/Mach3 standard pin out AND programmable pin out)
Header for flying lead axis motor drive connections
Encoder Input
Single 24 vdc logic power input
Spindle Encoder RPM display
Simple Menu Driven Operator Interface
Stop and Restart Job at any point
Tool Check, Jog and Restart at any point
Cutter Compensation
Conductive touch probe compatible
KP-3 Kinematic touch probe compatible
Lube Pump control (user configurable to match pump type)
MDI mode with recent command memory
Programmable Auxiliary Function keys
Multiple Language Support
User editable PLC programming
Part counter, Time, Time estimation
Simple Future Software updates available
Notepad ++ G code editor
Utility Menu
Backup and Restore CNC config
Message Display and Logs
Open Loop CNC operation
Unlimited Program Storage (Pro License, only limited by hard drive size)
Large easy to read DRO display
Menu Driven Part setup
Menu Driven Tool setup
Menu driven machine configuration setup
Fill in the blank Setup Menus
Run Menu
CNC control configuration menu
Restart Job Automatically
Any axis can be linear or rotary axis
G-code smoothing (user adjustable)
Auto Home to switch, user selectable direction per axis
Auto Parking, User editable
ZRI input homing
User editable Homing program
Software Travel Limits (+ and – directions)
User configurable Slow, Fast, Max rates
User configurable axis motor acceleration
Spindle encoder input for CSS, Threading and Rigid Tapping
Lathe canned cycles (profile, groove, chamfer, cutoff,turning diameter and end face)
Lathe Dry Run
User editable Park program
Wireless MPG control pendant (Pro license required)
Keyboard Operator Control panel emulator,
Xkeys USB control pad compatible
Contour ShuttleXpress compatible
Xbox controller compatible
Gcode backplot checks work envelope
G code backplot shows true cutter comp moves
Vary part backplot speed and pause w/ G-code line display
Real Time Part Graphics, shows tool position while running
Optional Stops
User editable Subprograms and Macros
Engraving compatible (short vector g code no problem)
Threadmilling (Mill)
Run in Inch or MM mode
Laser cutting and engraving support
PWM output control for Laser and/or Spindle
Tool Library
Long part names
Drilling and Tapping Cycles
USB and Network Drive Compatible
Distance to go DRO
Machine Coordinates DRO
Active G codes display
Software or Hardware paired axes
Auto Squaring of paired axis Gantry
Tool Life Management
Reset Home
Control relays and contactors thru Manual or Program control
User configurable custom DIY M-codes
Canned Cycles
Profiling with auto cleanout (lathe)
X/Y axis Deskew, corrects for axes out of square.
Mouse and Keyboard jogging in addition to VCP, MPG Pendant and Xkeys pendant, Contour Shuttle
Runs on 100-120 VAC OR 200-240 VAC power input.
Runs on USA and International Power
Support & Documentation: