FESTOOL. Our passion for high-quality power tools has continued for more than 90 years. We share this fascination with our users and fans. Our products make life easier for professional tradespeople – and help them to achieve perfect results faster.
Festool Circular Saw TS 75 EBQ-Plus-FS – For a greater cutting depth up to 75mm. Follows only one line.
Tech Specs
Tool Weight (kg)                                                              6.2 kg
No Load Speed (rpm)                                                      1,350 rpm – 3,550 rpm
Saw Blade Diameter (mm)                                              210 mm
Cutting Depth (mm)                                                        0 mm – 75 mm
Cutting Depth at 45° (mm)                                             55 mm
Dust Extraction Connection Diameter (mm)                 27 mm / 36 mm
Bevel Angle Range (°)                                                      0° to 47°
Power Lead Type                                                              Plug-it Lead
Power Source                                                                   Corded
Power Consumption (W or kW)                                     1,600 W
Motor Type                                                                       Brushed
Includes
TS 75 210mm Plunge Cut Circular Saw
Universal saw blade HW W36
Splinterguard
Kicjback stop
FS1400 mm Guide Rail
Features
Large saw with depth.
For a greater cutting depth up to 75 mm. Follows only one line. Accurate to the millimetre and without splinters. With the necessary force for each material – lightweight and easy to handle. And the motor with three bearings including MMC electronics for an exceptional service life. The TS 75 combines considerable power and a light weight in a compact device. Together with the guide rail, the TS 75 ensures flexible, fast and precise work.
Spring-loaded spacer wedge for unhindered plunge cuts
Tool-less play setting on the guide rail
Quick-acting brake system for safe, convenient sawing
FastFix: quick and easy saw blade changing and adapting to the working material
Attachable splinterguard for high-quality working results
Main applications
Precise circular in materials up to 75 mm thick
Cutting house doors to length using guide rail and circular saw
Cutting and machining conservatory profiles
Cutting cable ducts to length cleanly and easily
Accurately cutting false floors to size
Cutting multilayered boards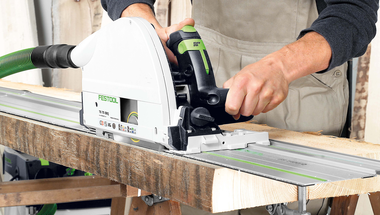 With one cut through thick and thin
With a cutting depth of 75 mm and a power of 1600 watts, even thick workpieces can be sawed with a single cut. The time-consuming task of machining two sides is a thing of the past. This minimises reworking and saves the laborious process of rotating the workpiece.
Safe working
The kickback stop prevents kickbacks when inserting the saw. Always to hand in the practical holder, it guarantees safe work.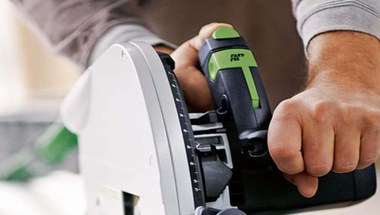 FastFix saw blade changing system
Work adapted to the material. The FastFix spindle stop makes it extremely easy to change the saw blade. This way, you are always working with the right saw blade and sawing at a speed adapted to the material.
Extended service life
The triple bearing of the motor improves the running smoothness and extends the service life.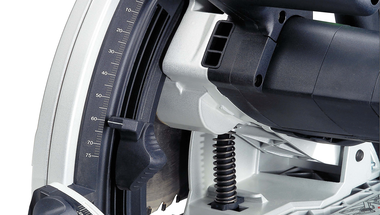 Exact depth setting
You can set the cutting depth accurate to the millimetre using the latching depth stop.
MMC electronics
Perfect adaptation to the working material, controlled speed and temperature monitoring. The quick-acting brake improves safety by stopping the saw blade in seconds.
Safe and clean insertion
The spacer wedge is spring loaded and slides back into the housing automatically when placed on the workpiece. Once the machine is inserted, the spacer wedge moves into the saw groove and prevents the saw blade from getting jammed. This means that the spacer wedge is always on the saw, ensuring safety at all times.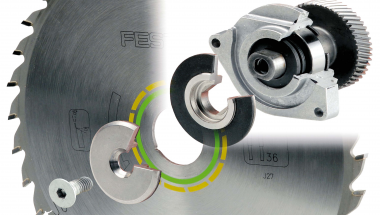 Additional safety
If the saw blade gets jammed, the sliding clutch prevents the saw from jolting back.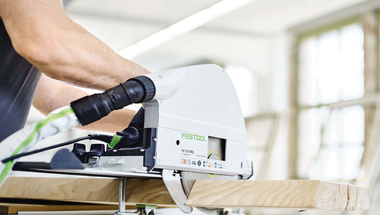 Dust-free work
The extractor connector, which can be rotated by 360°, makes it exceptionally easy to adjust the dust extractor to suit the working position.